OMAN Wave Clinics 2018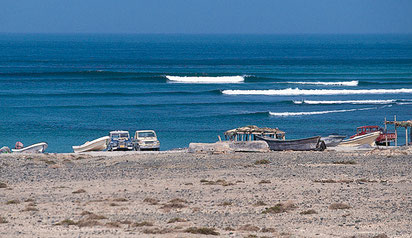 20 - 22 June 2018 Surf Initiation Camp
FOR ENTRY LEVEL RIDERS
24 - 29 June 2018 Pro Wave Clinic
FOR ADVANCED AND EXPERT LEVEL RIDERS

Oman has been known either as THE place to go to for wind and waves in the middle east - or is famous in the kiting world for its special flat water conditions on the island of Masirah. After the first test venue in 2017, Marc is taking advantage of both to either bring you up and going on a surfboard in perfect flat water - or ride some relatively empty and surprisingly good waves.
The clinics are destined to everybody - either you're keen to get to ride a surfboard and quickly progress in the best possible conditions for that - or you're up to learn how to better ride waves at a place that is ideal for this.Oman has a great wind reliability at this time of the year, plus is an interesting and special place to travel to. A great opportunity to take advantage of.




We will be at the spot of Aseelah on the mainland of Oman, accommodated at the motel that is situated directly at the spot.
Closest Airport is Muscat in Oman where we'll be able to organize transport to the spot - or you could rent a car and self-drive to our location. Or you can drive there straight from Dubai.
Accommodation
There is a motel right on the kite spot that suits us ideally. We'll be staying and eating there on a full-board basis. The beach itself and the Motel are in a very quite area. The nearest village is 5km, nearest town is 25km away, there is a hospital 4km away. The hotel runs his own restaurant where we'll have lunch and dinner. They offer good (continental) menus with simple, healthy and fresh food. There are shops and supermarkets within 5km.










Entry Level Camp
REQUIRED LEVEL OF KITING: you need to be a confident kiter, relaunch, going upwind, water/beach start on a twintip, no surfboard skills required, good to have been on one before.
The main subject is to get you going on a surfboard, learn the proper techniques from scratch, improve from there and go through some basic waveriding techniques.
Advanced Level Clinic
REQUIRED LEVEL OF KITING: You need to be fairly comfortable riding a surfboard, some first experiences with waves is good to have.
The main subject is to work on your wave riding skills, understand and get to apply the different aspects of it, learn to put it all back together and adapt your riding to different conditions and locations.
Schedules:
16 - 20 June Entry to Advanced Level

16 Juni

latest arrival day in Muscat or time to drive off from Dubai

17 - 20 Juni

4 day wave coaching

21 Juni

departure or start of personal holiday
16 - 22 June Advanced to Expert Level

16 Juni

latest arrival day in Muscat or time to drive off from Dubai

17 - 22 Juni

6 day wave coaching

23 Juni

departure or start of personal holiday
Package rates
€ 580 just for the 4 day coaching incl. video support
€ 870 just for the 6 day coaching incl. video support
€ 895 for the complete package including 5 nights of full- board and double occupancy standard accommodation
€ 1290 for the complete 7 night package
Accommodation options:
€ 36 extra charge for single occupancy (per night)
Extras:
€ 75 for personal video edit of the trip
inquire for pickup from Muscat International Airport
Terms and conditions
Please note that the wave clinics will only take place once a minimum of 5 participants are committed to it. The deadline to reach that is: 16 MARCH 2017
For reserving your spot we need a 30% downpayment. There are discounts for returning customers.
Group size:
from 5 up to a maximum of 8 participants
Language:
The clinic will be held in English, however Marc is also fluent in German, French and Spanish and can make sure everybody understands the content of the clinic.
Weather conditions:
Please note that we have done everything in order to maximize the chances to catch the best conditions for you. However we are not in control of the weather and there will be no refunds due to lack of wind. We'll be able to adapt and more emphasize on land-based instructions, making sure you do go home with an increased knowledge that you'll tap into for then improving your riding.